BRASS & COPPER
Nature's Solution to Cleaning Brass and Copper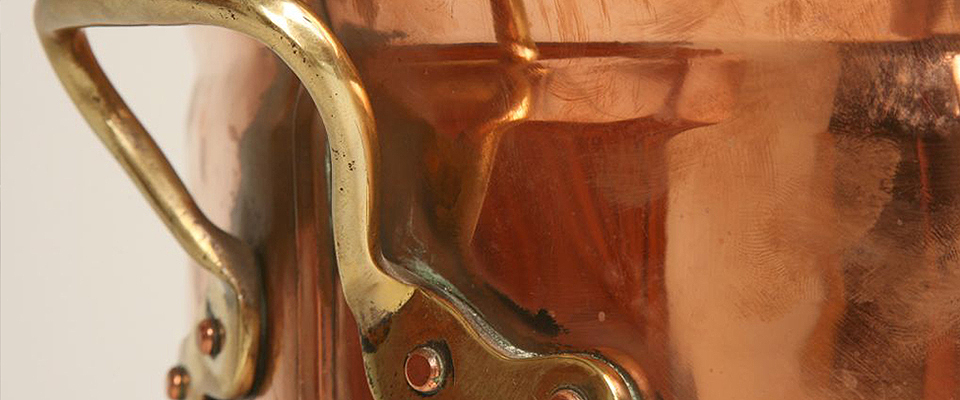 Ideal for Cleaning Brass and Copper Without Acids or Caustic Chemical Cleaners
A New Concept in Cleaning
Made from kelp and other natural organic ingredients, EcoStar Brass & Copper is able to replace acid cleaners due to the unique synergistic action of four components: a bacterial stimulant, a biodegradable active surface agent, a chelating agent and a suspending agent. This process removes oxidation from the surface, and leaves the surface clean of oil by turning it into carbon dioxide, water and simple salts for safe environmental disposal. The unique wetting and suspending agents enable EcoStar Brass & Copper to penetrate pores and clean deeper by bringing particles to the surface. When rinsed properly, the surface will be cleaner than ever before. EcoStar Brass & Copper may be reused until sudsing action ceases when agitated. To increase its life and cleaning ability, a filtration system can be used to remove contaminants.
---
Product Details
Thoroughly Cleans Brass and Copper Surfaces: Removes oxidation from brass and copper surfaces.
All Natural: This multi-enzymatic, biocatalytic agent is derived from food grade kelp and other natural ingredients.
Leaves No Residue Behind: Leaves a clean surface.
Cleans Without Acids or Other Caustic Chemicals: Will not damage surfaces or worker health.
Easy to Use: Use as a dip, spray on or wipe on with sponge or soft cloth, then rinse.
Rinses Easily and Quickly: Rinse thoroughly with water.
Pleasant Odor: No irritating fumes, no disinfectant or chemical odors in workplace.
Economical and Convenient: Saves our customers time and money.
Nonflammable and Long Shelf Life: Safely used around open flames, store below 110°F in shade in sealed container
All Natural Ingredients: No phosphates, no nitrates, no VOCs, and no flash point
Safe for People and the Environment: Nontoxic and non-irritating to humans, animals, marine life and plants
Applications
Cleaning Brass and Copper: Cleaning times will depend on types of metal cleaned and the degree of oxidation (usually less than 10 min).
Cleaning Munitions Brass: Clean by using a tumbler or as a dip solution. EcoStar Brass & Copper works quickly to remove oxidation both internally and externally, in 1-5 minutes in most cases. Triple rinse and throughly dry before reloading.
Dilution Guidelines
As a Spray: Pour EcoStar Brass & Copper into applicator and spray thoroughly to fully coat surface. Reapply to heavily oxidized metals.
As a Dip Solution: Pour EcoStar Brass & Copper full strength into a container made of stainless steel, plastic or fiberglass. Soak items and remove when clean (15 min - 2 hrs). Rinse and dry.
To Wipe On: Apply with a soft cloth or sponge. Allow it time to clean the surface. Rinse with water then dry.
Physical Properties
Form: Liquid
pH: 5.0-6.0
Specific Gravity: 1.02
Appearance: Dark Brown
Boiling Point: Water
Flash Point: None
Shelf Life: 5+ Years*
Fuming Properties: None
Biodegradable: Yes
* if kept in sealed container, stored in shade and not exposed to extreme heat (over 110°F) for prolonged periods of time.